OptiMate Lithium 1A Charger
OptiMate Lithium 1A Charger
STEPS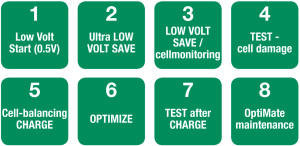 Why you need a lithium battery charger!

Unique LiFePO4 battery protection!

The OptiMate Lithium 0.8A 4S charges LiFePO4 / LFP (Lithium Iron Phosphate) 4-series batteries with nominal voltage of 12.8V – 13.2V.

Special features:
Saves low voltage LiFePO4 batteries
Specialized LiFePO4 charge cycle
Maintains & protects LiFePO4 batteries
Battery BMS reset.
CHARGING AMPS : 0.8A
USE : Indoor / Outdoor (lowest temperature: -4°F / -20°C).
SAVE : Low Volt Start of 0.5V + 3 step low volt save & test.
IDEAL FOR :LiFePO4 (LFP) 4 series cell 12.8 / 13.2V batteries from 2 – 30Ah.
INPUT : Global (100-240V 50-60Hz), high efficiency (CEC listed), fully sealed.
STYLE : Weatherproof case with wall mounts, with 6ft / 180cm AC supply lead and 6ft / 180cm charge lead ending in SAE connector. Weatherproof battery lead& standard battery clip set
SAFE: No risk of overcharging. Totally safe for vehicle electronics. Sparks suppressed. Safe for long-term battery maintenance. Automatic shut-down if short-circuited or battery disconnected. 3-year limited replacement warranty.
THIS PRODUCT IS FOR LITHIUM BATTERIES ONLY
Found A Lower Delivered Price?

We are doing everything possible to provide you the best products at the lowest prices. Due to the level of competition on the internet, we know that it's possible some of the prices may be better elsewhere at times.

If you find one of our products with a lower price, please use this form. We will compare the prices and will do our best to offer you the product/s at the same price!

Here's how it works:

1. Found a cheaper price?
2. Ask us for a price match - Just fill out the form and we'll check the details.
3. If you are correct, we will do our best to offer you the same deal, and you can enjoy your stay knowing you got the lowest price.
Please fill in the form below:
*
Required fields
Application
Used For
Service Items